Best Tire Inflator
Getting the best tire inflator is important especially if you plan to go on a long road trip. Also, you might not want to have to go to the gas station just to have your tires inflated.
Aside from inflating car tires, the device can be of value to your household. You can also inflate volleyball and football balls, children's bike wheels, and that air mattress if you decide to go camping.
VIAIR 300P Portable Compressor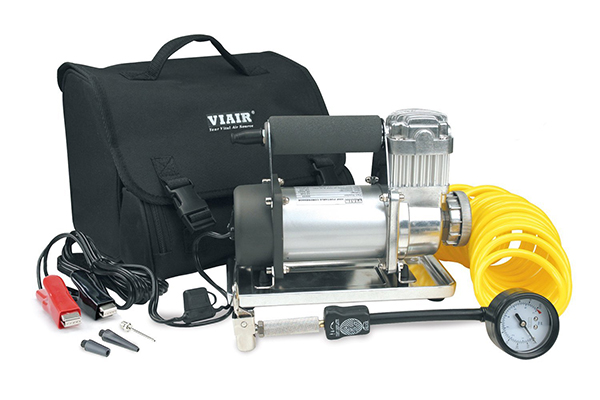 VIAIR 300P is a mid-range tire inflator powered by your own vehicle's battery. The unit weighs 8.60 pounds and remains usable in an environment with a maximum temperature of 158°F and minimum temperature of -40°F.
>>>> Click Here To See More Pictures on Amazon <<<<
With a maximum pressure of 150 PSI, VIAIR 300P can fill a 33-inch tire within 10 to 15 minutes. For smaller and thinner wheels like bike, this tire inflator can fill these in a minute or two.
This portable compressor comes with a steel tray equipped with vibration isolators. These components eliminate the noise that often comes with vibration from the compressor's body.
VIAIR 300P Portable Compressor has a duty cycle of up to 33%. This entails that you can use the unit continuously for 40 minutes at 72°F and 30 PSI.
The hose can be attached and detached easily as well. Its quick-release fitting lets you look at the inline pressure gauge in between inflations.
At 8 feet, the power cable of VIAIR 300P makes it too short for some inflation duties. Detaching your car battery isn't likely to solve this problem because this tire inflator requires the engine to be running.
Even with an inline pressure gauge, measuring the air pressure in your tires remains difficult. You have to detach and attach your hose several times so you can accurately measure the pressure.
Owners of four-passenger cars may want to consider VIAIR 300P Portable Compressor. The short power cable won't be a problem for smaller cars. They can also take advantage of the quick inflation and quiet operation.
Pros
Quick inflation
Quiet operation
Extensive duty cycle
Quick-release hose fitting
Cons
Limited power cable
Difficulty of measuring pressure
>>>> Click Here To See Customer Reviews & Current Price <<<<
Black & Decker ASI500 High-Performance Cordless Inflator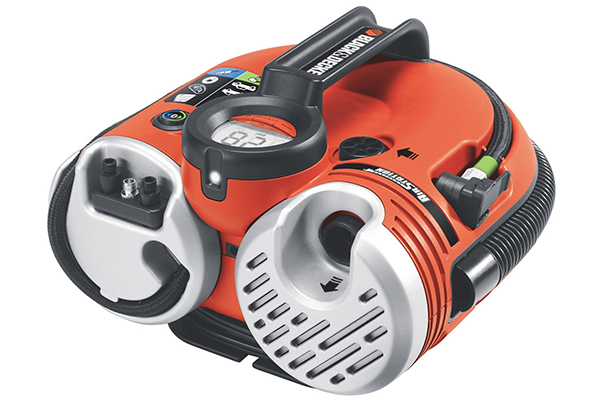 Black & Decker ASI500 is a red, 5.2-pound air compressor for road and residential use. Each unit comes with a charger, two hoses and three other accessories.
>>>> Click Here To See More Pictures on Amazon <<<<
This portable inflator is equipped with a 12-volt rechargeable battery which requires 4 to 5 hours of charging for a more long-lasting power. When the battery runs out, you can attach the inflator to your car's 12-volt DC power outlet.
Black & Decker ASI500 inflator has a frame that supports its hose. The entire unit is compact and doesn't take much space which makes it easy to store.
This inflator's pressure gauge is also noteworthy for its accurate measurement. With a digital gauge, you don't have to deal with the difficulty of measuring pressure manually. Incorrect use of the latter often leads to inaccurate reading.
Black & Decker ASI500 works as an inflator as well as a deflator. This is a more convenient option to deflate air beds, beach balls and floaters.
Its rechargeable battery isn't durable though. If you use this inflator for several hours a week, it is expected that the rechargeable battery will get damaged. Battery replacement and proper use are the remedy.
Another problem with this inflator is that the air tends to escape quickly when you remove the nozzle. That is why when inflating, you have to fill the pneumatic object beyond the needed air pressure.
In households with kids and multiple vehicles, Black & Decker ASI500 Cordless Inflator is highly useful. You can use this to fill inflatable toys, pools, bikes and cars.
Pros
Dual power source options
Compact design for easy storage
Digital gauge for accurate measurement
Deflating capabilities
Cons
Battery replacement
Air escapes quickly
>>>> Click Here To See Customer Reviews & Current Price <<<<
VIAIR 88P Portable Air Compressor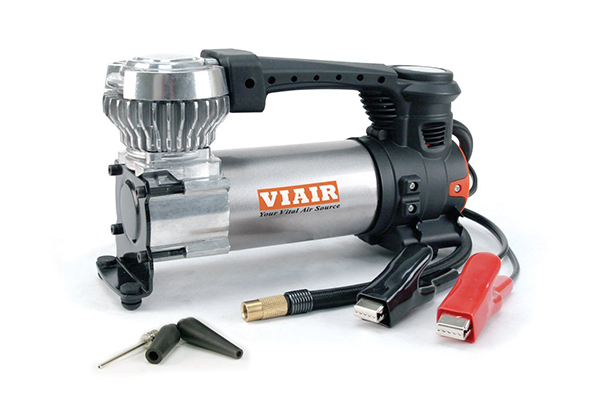 VIAIR 88P is a black-and-gray inflating unit. It has a pair of alligator clamps (one red, one black) for battery attachment. Its maximum pressure output is 120 PSI.
>>>> Click Here To See More Pictures on Amazon <<<<
This unit plus its corresponding accessories has a total weight of 4.75 pounds. Aside from being lightweight, its frame has a top handle which makes it easy to carry.
VIAIR 88P has a power indicator to let you know if it is attached to a power source and turned on. This indicator helps you avoid overheating.
VIAIR 88P also has a gauge mounted onto the unit. This lets you measure right away and avoid air from escaping; thus, you will have a more accurate reading of the pressure.
The hose from this inflator is made from rubber. While a rubber hose is not as light as a plastic one, the former won't get tangled easily as the latter. Rubber hose tends to be more durable as well.
A package of VIAIR 88P doesn't include a case or bag though. You have to buy it separately. Otherwise, your inflator won't have a protection against dust when not in use.
When using this inflator, expect some slight vibrations. These vibrations aren't as noisy as the sound of your engine running. However, these may cause the unit to move. Let the unit rest for a few minutes to avoid excessive vibrations.
As a space-saving tool, VIAIR 88P Portable Air Compressor suits well the needs of those living in compact homes. Female drivers may also find this inflator easy to use and carry around.
Pros
Portability
Power indicator
Mounted gauge for accessibility
Rubber hose
Cons
No bag/case
Slight vibrations
>>>> Click Here To See Customer Reviews & Current Price <<<<
Goodyear i8000 Tire Inflator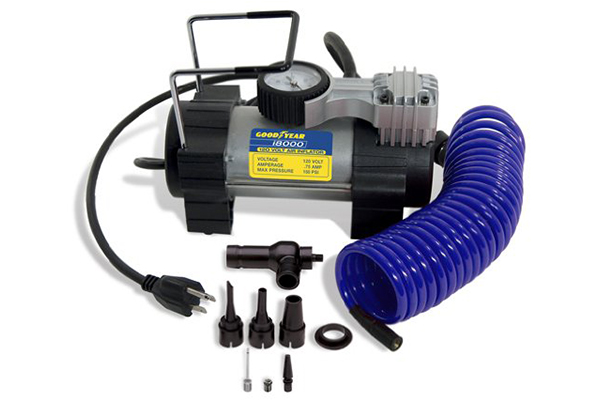 Goodyear i8000 became available in July 2010. This product only weighs 1 pound without the accessories. This inflator is a little bit shorter than an arm which lets you carry its body by just one hand.
>>>> Click Here To See More Pictures on Amazon <<<<
Though dubbed as tire inflator, Goodyear i8000 isn't exclusive to tires. A package of this inflator includes several inflation adaptors which you can use for various pneumatic objects such as inflatable stand-up paddleboards, balls and balloons.
The entire unit is almost 1 foot. Combined with its 6-foot power cord and 17-foot coiled air hose, it has a total reach of 24 feet. It comes in handy when filling tires of vans and pick-up trucks.
Goodyear i8000 Tire Inflator can run using electricity. You can plug it into any 120-volt outlet. Opting to plug it into a power outlet extends your car battery.
The instruction manual in the package is easy to understand. It only takes three steps: plug it, attach the valve and turn it on. Wait until the mounted gauge indicates your intended pressure.
The pressure from this inflator isn't that great. While it can hit a maximum pressure of 150 PSI, it typically operates with PSI lower than that. As a result, inflating an object takes much time.
The screw-on hose valve may come as a disadvantage, too. You can fit it snuggly in less than 2 minutes but it still is time-consuming. The removal also takes time which enables air to escape.
Goodyear i8000 Tire Inflator can be used for personal and commercial purposes. If you are selling or renting inflatables for beach-goers, this inflator might become useful.
Pros
Multi-functionality
Extensive air hose and power cord
Can be plugged to a power outlet
User-friendly operation
Cons
Slow inflation
Time-consuming attachment/removal of screw-on valve
>>>> Click Here To See Customer Reviews & Current Price <<<<
Kensun YS-205 Portable Air Compressor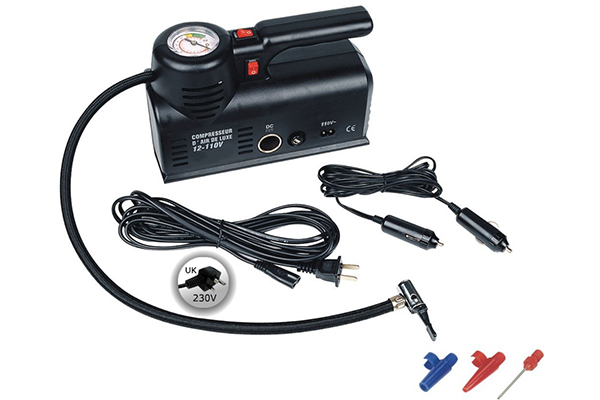 Kensun YS-205 is a 2015 model. The unit weighs 4.8 pounds and is mostly black. It also has an affixed pressure gauge at the top. Each package contains 3 nozzle adapters of different sizes.
>>>> Click Here To See More Pictures on Amazon <<<<
This inflator's cords for AC/DC outlets are both detachable. The AC cord is 2 meters long while the other is 3 meters. When travelling, you only need to bring the cord for cigarette plug.
Kensun YS-205 Portable Air Compressor comes with a LED light. This feature is useful when you are inflating a flat tire along the road at night.
The unit has a stainless steel frame which is easy to clean. The components don't require frequent lubrication as well. You can keep the product in a bag or case to further lessen its maintenance requirement.
Because of its simplicity in design and detachable parts, you can do the troubleshooting of the unit on your own. Just refer to the troubleshooting guide provided.
Kensun YS-205 Portable Air Compressor has a tendency to overheat though. It should be used for a maximum of 10 minutes. After that, it must rest for 10 minutes or longer to avoid damages caused by overheating.
Some of its parts such as its gauge and hose may not work properly. This can be resolved by calling Kensun's customer service. They offer free replacements for reported defective parts.
Kensun YS-205 Portable Air Compressor is useful to truck drivers and emergency response drivers who often work at night. This inflator helps them fill their tires in the middle of the night.
Pros
Detachable cords
LED light for extra illumination at night
Little maintenance required
Ease of troubleshooting
Cons
Possible overheating
Defective parts
>>>> Click Here To See Customer Reviews & Current Price <<<<