Best Car Wax
The best car wax can truly make your car shine and look like new. Your car can also be protected against the elements of weather, especially during the harsh winter.
Plus, regularly applying car wax can extend the beauty and life of your paint finish. Car waxes can also shield your car paint from environmental pollution, moisture, and UV rays.
The Ultimate Shine for Your Car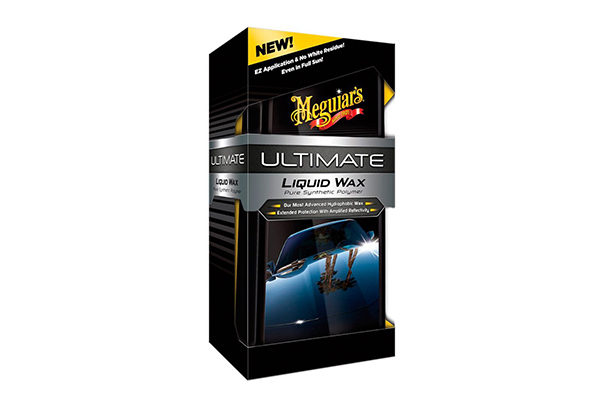 The Ultimate Liquid wax is a product of Meguiar, the oldest manufacturer of car care products. Years in manufacturing car care products (1901) led to innovations that aim to improve product performance. One of such innovations is the Ultimate Liquid Wax.
>>>> Click Here To See More Pictures on Amazon <<<<
The pure synthetic wax component provides longer protection and magnifies surface reflectivity. And, you will not find white residue on trim and plastic after the application.
The cross-linking of synthetic polymers accounts for a long enduring protective shield from surface tensions, magnifies reflections, and provides a mirror-like sheen. The wax is water resistant; water beads just roll off the surface. Water resistance removes the necessity to wipe wet surface.
The application and removal of the wax are easy through Meguiar's Thin Film Technology; and, you can apply on the car's surface even under a full sun with no effect on the wax.
Whatever the color of your car, you can use the Ultimate Liquid Wax. The wax's properties intensify the color and give it depth, adding attraction to the car.
The wax has chemical components that could be harmful to you. Read the manufacturer's instructions thoroughly as a precaution. Apply the wax in a well-ventilated area and avoid touching wet material on your skin.
The wax is easy to apply; however, unless you are thorough with the application, the wax leaves a silicon-like residue on the surface. Make sure you overlap when waxing since this is difficult to detect under poor lighting.
Meguiar's Ultimate Liquid Wax is ideal for you if you are the type to wax often, goes for a deeper finish, wants a lasting protective shield, and parks your car outside.
Pros
Made of pure synthetic polymer
Cross-linking of synthetic polymers
Meguiar's Thin Film Technology for easy application
Applicable to any color of car
Cons
Chemical components need safety precautions during application
Tendency to leave streak marks and silicon-like residues
>>>> Click Here To See Customer Reviews & Current Price <<<<
Car Care Finish for all Weather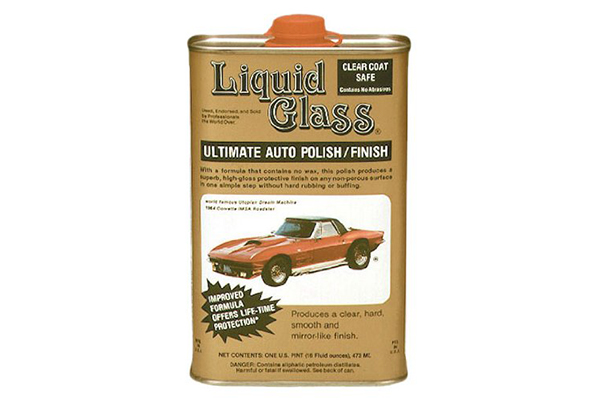 Liquid Glass LG-100 is a synthetic sealant used since 1980. The good market performance indicates high performance quality. The product has no wax component and is popular for protecting the car's exterior from destructive elements.
>>>> Click Here To See More Pictures on Amazon <<<<
The best feature of LG-100 is its toughness,which gives protection not only to cars, but to trucks and boats that are exposed to harsh environments.
The product's toughness prevents cracking, peeling, and turning yellow over time. It is effective in reducing damage to your car due to acid rain, tar, corrosion, minor bird droppings, and from most common elements.
It is easy to apply with a straight back and forth motion, done on a warm surface or under direct sunlight. The finish gives a super gloss and a mirror-like effect which makes driving one of pride and satisfaction.
LG-100 contains no wax, grease, acrylic, oil or Teflon, which makes the product safe to use. The product's key component is a crystal clear carbon that makes the product tough.
Apply the product when you are not in a hurry to use the car as you will have to wait for 4 hours for it to bond with the surface. The effect, however, is durability which makes it worth the wait.
It cleans with one directional motion; swirling motions will produce marks on the surface. It could lift paint from the surface if the car's paint is a single stage work. However, this proves a light oxidation property of the product.
If you are a motorist who is on the road most of the time and gets exposed to destructive elements, this car is for you.
Pros
A tough protective finish
Contains no wax, grease, acrylic, and oil
Easy to apply and no removal necessary
A high gloss and reflectivity
Cons
A visible swirl track
Takes for product to bond with the surface
>>>> Click Here To See Customer Reviews & Current Price <<<<
Easy Car Care Application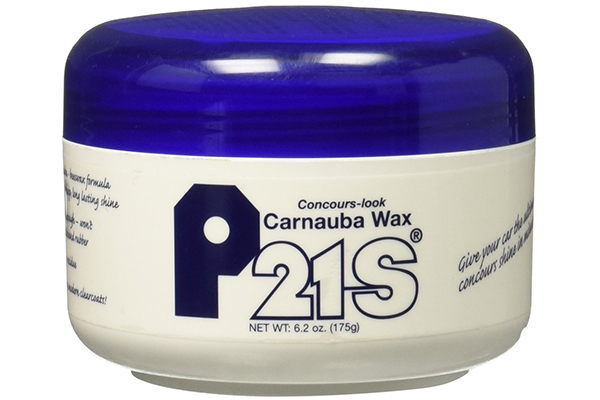 The P21S 12700W Carnauba wax is one you would want for your car. The product gives an impressive wet look and a gloss that suits your expectations. It provides protection from moisture and common contaminants. It comes in a 6oz jar.
>>>> Click Here To See More Pictures on Amazon <<<<
The product is made of pure Brazilian carnauba wax, giving the jetting factor benefit. It provides the car a durable paint protection and wet look surface.
The product is easy to use and leaves no white marks on plastic and rubber. You can you the product on clear coats, paints, and on scratch-resistant coats.
It has an added bonus of an anti-fatigue applicator which is designed for comfort and convenience. The sponge pad's thickness prevents accidental nail scratches during application.
You can apply the Carnauba wax with ease which can be done manually with a pad or a suitable cloth, or using an electric buffer.
One setback you will find in the P21S 12700W carnauba wax is the span of the protective sealant. Carnauba wax is made of natural ingredients; therefore, the protective sealant will not last as long as the synthetic wax.
The durability of the product depends on the climate and your daily travel routine. Travelling daily on a hot, humid climate shortens the effectiveness of the wax. Regular waxing, however, enhances the life span of the carnauba wax.
If car care is a hobby that you do on a regular basis and you are the type who likes it easy when waxing, the P21S 12700W Carnauba Wax is for you.
Pros
Made from pure Brazilian carnauba
A jetting factor that results to a wet and ultra gloss look
Easy to apply with anti-fatigue applicator as bonus
No white stains on plastic and rubber
Protection from moisture and contaminants
Cons
Less durable than synthetic wax
Constant exposure to sun shortens effect of protective shield
>>>> Click Here To See Customer Reviews & Current Price <<<<
The Car Care That Brings Out the Bright Colors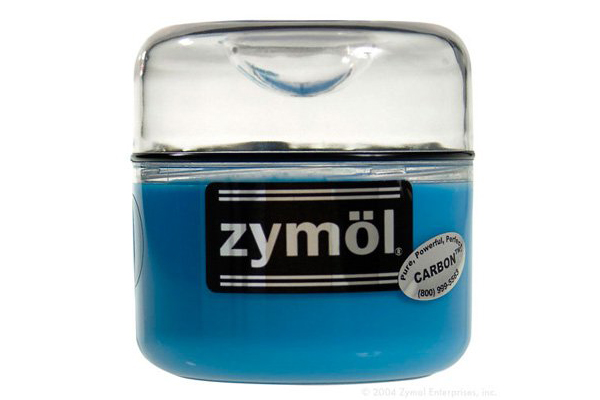 Zymol Carbon Wax is made from natural ingredients and is hand-formulated. 37% carnauba wax contained in each jar magnifies the vehicle's colors. This product is ideal for dark colored vehicles. The product applies with ease because of its thin coats.
>>>> Click Here To See More Pictures on Amazon <<<<
The infusion of the carnauba wax gives you the durability and extra protection you need from UV rays. The same ingredient protects the surface from common contaminants.
It is easy to use with its accompanying applicator. Your product lasts long with the small quantity of wax used. Apply the wax on a small area of your car's surface and buffer it with a microfiber towel. Continue with this process.
Ease of use is another feature of this product. Wait for 20 to 30 seconds before buffing to get the maximum effect of the application.
The result of this specialized, hand-formulated product is a mirror-like shine and brings out the depth of a dark-colored vehicle and reveals layers of tones.
Since the product comes from natural ingredients, it is less durable than those made of synthetic materials. The protective coating, though, can be enhanced through additional coatings of wax.
If your car is light in color, Zimol carbon wax may not work well as you expect. The formulation of the carbon wax is for dark finish cars.
The richness and depth of color that results from the product application attracts car owners who go for beauty and perfect finish.
Pros
Made of natural ingredients and hand-formulated
Easy to use and consumes a small quantity of wax
Produces a remarkable mirror-like shine
Brings out richness and depth of color
Cons
Less durable than synthetic wax
Works less on cars with light finish
>>>> Click Here To See Customer Reviews & Current Price <<<<
Improved Car Sheen through WAC-201 Butter Wet Wax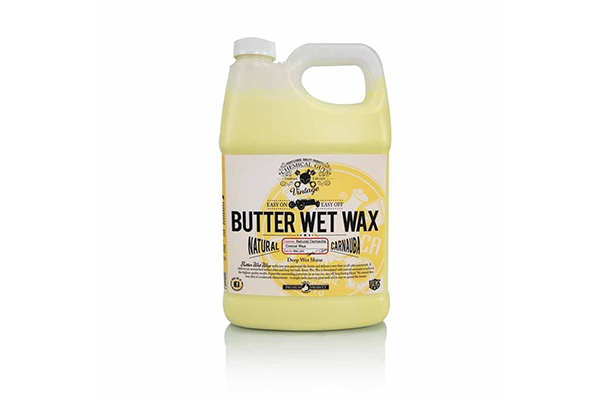 The WAC-201 Butter Wet Wax is a product of Chemical Guys, a known provider of car care products. It is an improved formula for car care that provides unequaled surface shine, a wet look, lasts longer and easy to use.
>>>> Click Here To See More Pictures on Amazon <<<<
Made from natural ingredients and an infusion of carnauba, the result of the Butter Wet Wax are the high level of shine and the deepest wet look you could aspire for your car.
The product has a water resistant property. It provides additional protection from bird droppings, road tar and from any situation that is damaging to the car's exteriors. And, the product makes your driving worry-free from elemental damage.
What makes the Butter Wet Wax appealing is its ease of application which you can do manually or by a machine. You can also apply the wax outdoors under a full sun. The product's feature of easy on-easy off reduces your work time.
The product works with any paintwork and amplifies the natural beauty of your car. The deep colors become vibrant and shiny that last long with the protective coating of the wax.
While the product works on all colors, do not expect greater surface performance on light-colored cars. The Butter Wet Wax is at its best shine against dark colors.
The product is easy to apply. Be careful, however, in using the right amount of wax. Too much wax does not thin out easily and makes removal difficult. Determine the right amount of wax for ease of work.
For one who goes for a car that gives off a vibrant color and a shine that makes your car a stunner, this product is especially for you.
Pros
Made from natural ingredients with the infusion of carnauba
Water resistant and provides protection from any situation
Easy to apply even under a full sun
Brings out the brilliance and vibrant colors
Cons
Works less on light-colored cars than on dark colors
Over-application of wax makes removal difficult
>>>> Click Here To See Customer Reviews & Current Price <<<<